MARVETTA IS...
a Caribbean inspired Mango Pepper Sauce with hot scotch bonnets, handmade in NYC with just 7 simple ingredients!
She gives you a spicy, sweet, bright, well balanced and flavorful addition to your meal that will leave your mouth tingling.
Marvetta is not for the faint of heart... disperse at your own discretion. Spoon it over rice dishes, meat and substitutes, fish, tofu, veggies, eggs, soups, salsas, chilis... anything, really. You can use it as a condiment, a marinade, a cooking base (a sautée with a little Marvetta would be lovely) -- it's entirely up to you! Recipe inspired by my Trini mama, my Caribbean heritage and my love for New York City.
#blackowned #femaleowned #nyc
*PRE-ORDERS AVAILABLE SPRING 2022*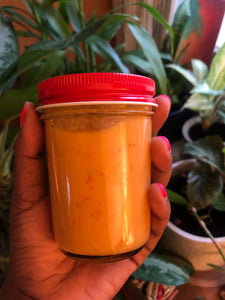 Mango Pepper Sauce
A super spicy, extra thick Mango Pepper Sauce.
Handmade in NYC with scotch bonnet peppers, organic mango, garlic, white vinegar, mustard, lime and zest, and a generous pinch of salt. 
TO USE: spoon Marvetta over your favorite dishes, cook using as a base, season your meats & meat substitutes, or simply use as a spicy condiment!
4oz (small); 8oz (large); 12oz (x-large)
Upcoming...
Our story, reviews, recipes, videos, pre-order info and more soon come! xx